<![CDATA[
Guys!! I just updated my bedding and want to tell you alllll about it! Because it's the holidays and chances are that you have to pull off some semblance of a bedroom for the visitors in your life. Also you might want to go ahead and add this whole shebang to your Christmas shopping list, because everyone loves gorgeous bedding.
If you remember, we don't actually have a master bedroom in the Merc. We're crashing in Brem's room until we get Phase 2 done. While the Merc is FAR from being decorated, the lastest sleeping situation makes me a little itchy. I would love to build a headboard and do it all up right, but I obviously should wait until we're actually in our real life room right!? (insert nods of validation here)
So I slowly add things to make it feel like an actual bedroom and not a basement room with a bed that gets all of the crummy leftovers.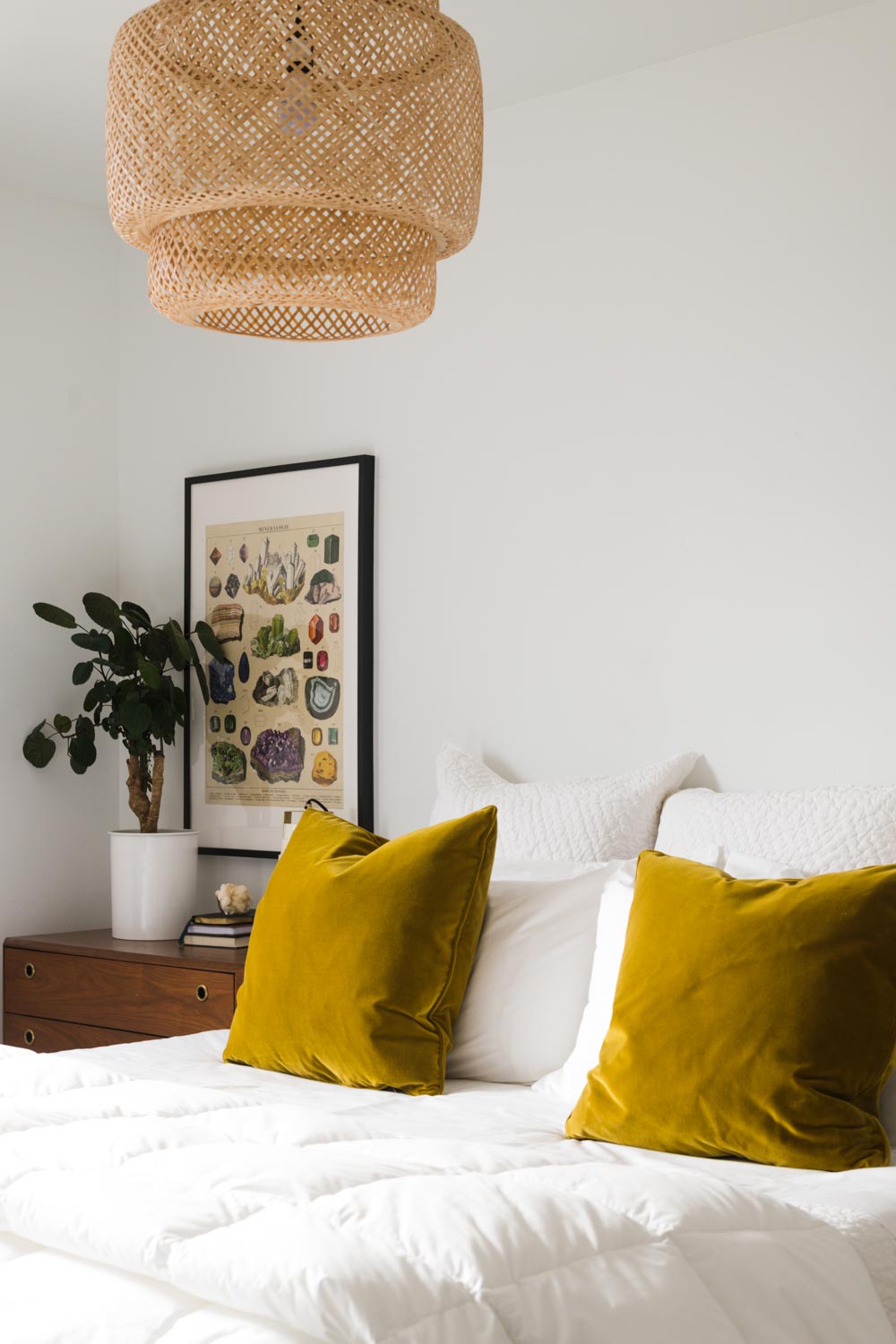 I LOVE white bedding. It's like the best form of basic. This is why it's such a great gift! Everything looks amazing with it, it's the equivalent of a giant fluffy cloud from heaven, and you can always tell if it's clean. Do you know where my favorite place to get white bedding is? HOME DEPOT. I know you're shocked. Pick your jaw up off the floor and let's talk about it.
Actually first, let's have a vague flashback from my childhood. Fun fact, I love to read while I eat. Boxes, junk mail, the newspaper, anything. At some point during my childhood, I very distinctly remember my mom receiving The Company Store catalog. I loved looking at all of the bedding and all of the happy sleepers inside. I read that thing cover to cover on every available occasion. Their advertising totally paid off because from the age of 9 I hav had imprinted in my subconscious that The Company Store bedding is the best bedding in all the land. Jim from Marketing is probably retired, but if not, he deserves a raise!
Ok now that I've established that, let's talk about Home Depot.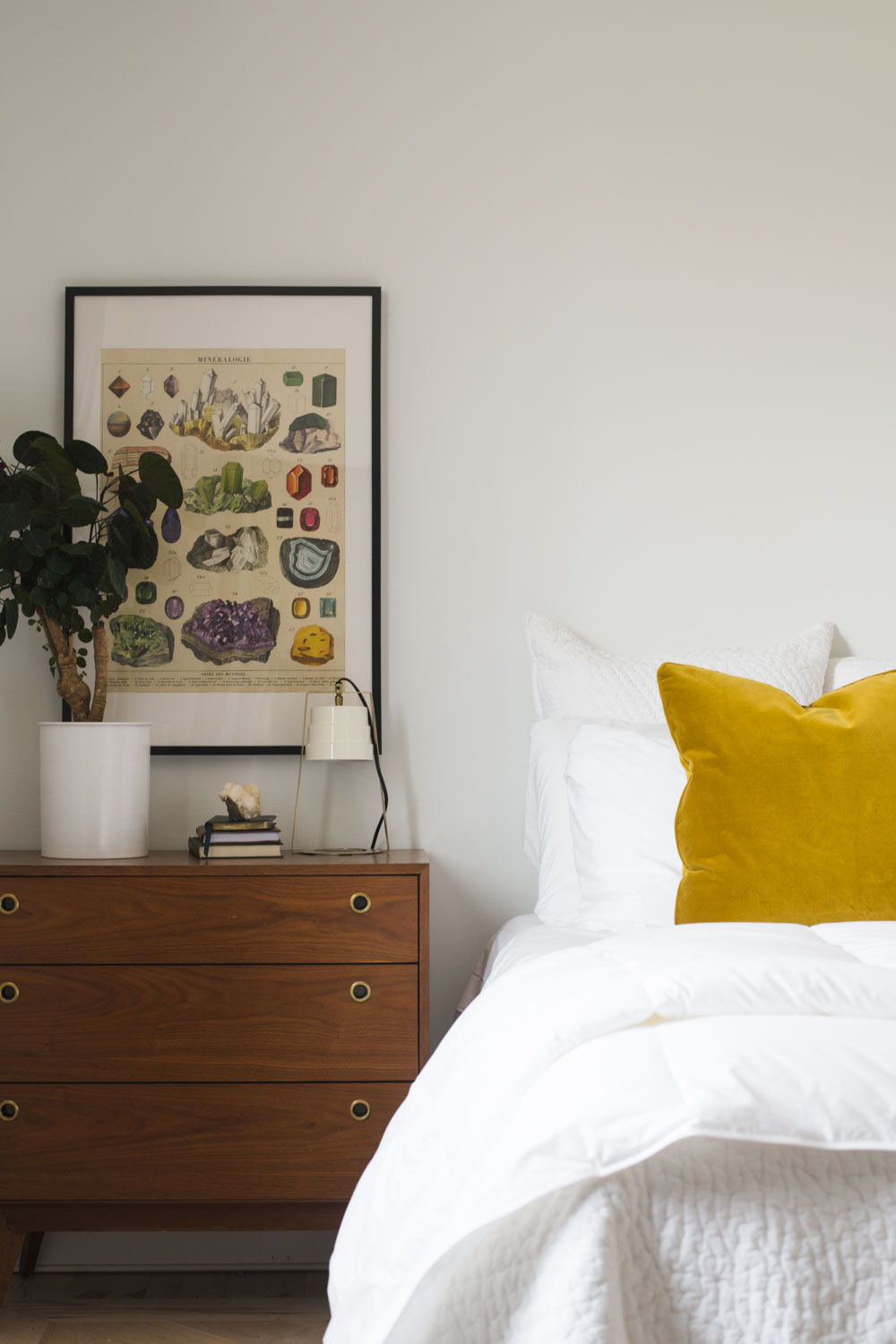 How much time have you spent diving into the treasure trove that is homedepot.com? YOU GUYS. They have everything, including bedding from The Company Store.  Holy flashback.
Pulling a bed together for yourself or your guest consists of this basic framework. Sheets, Bed Pillows, Quilt, Comforter, and a Statement Throw or Pillows. I think its important to have the made up bed easy to replicate. That way when your guests are making it they wont feel like they're playing Concentration where everything will explode if they don't get it in the right place. Stick to a symmetrical style that is easy to figure out!
Let's start with the sheets, I am digging the 300 Count Percale Sheet Set. I will be the first to admit that I'm not a sheet expert, but the first thing that I noticed is how much more opaque they were than the cheapie ones I usually end up with and they are so much smoother!!
Do you know the ultimate sheet life hack?
After your sheets are washed (and still wet!) you put them on your bed (dont tuck in the flat sheet, just let it hang out until it's dry!) It leaves them so crisp and wrinkle-free! Try it next time you wash them, guaranteed you don't go back! I can't wait to try The Company Store's wrinkle-free sateen option! Are you a sheet connoisseur? Share all of your advice below!!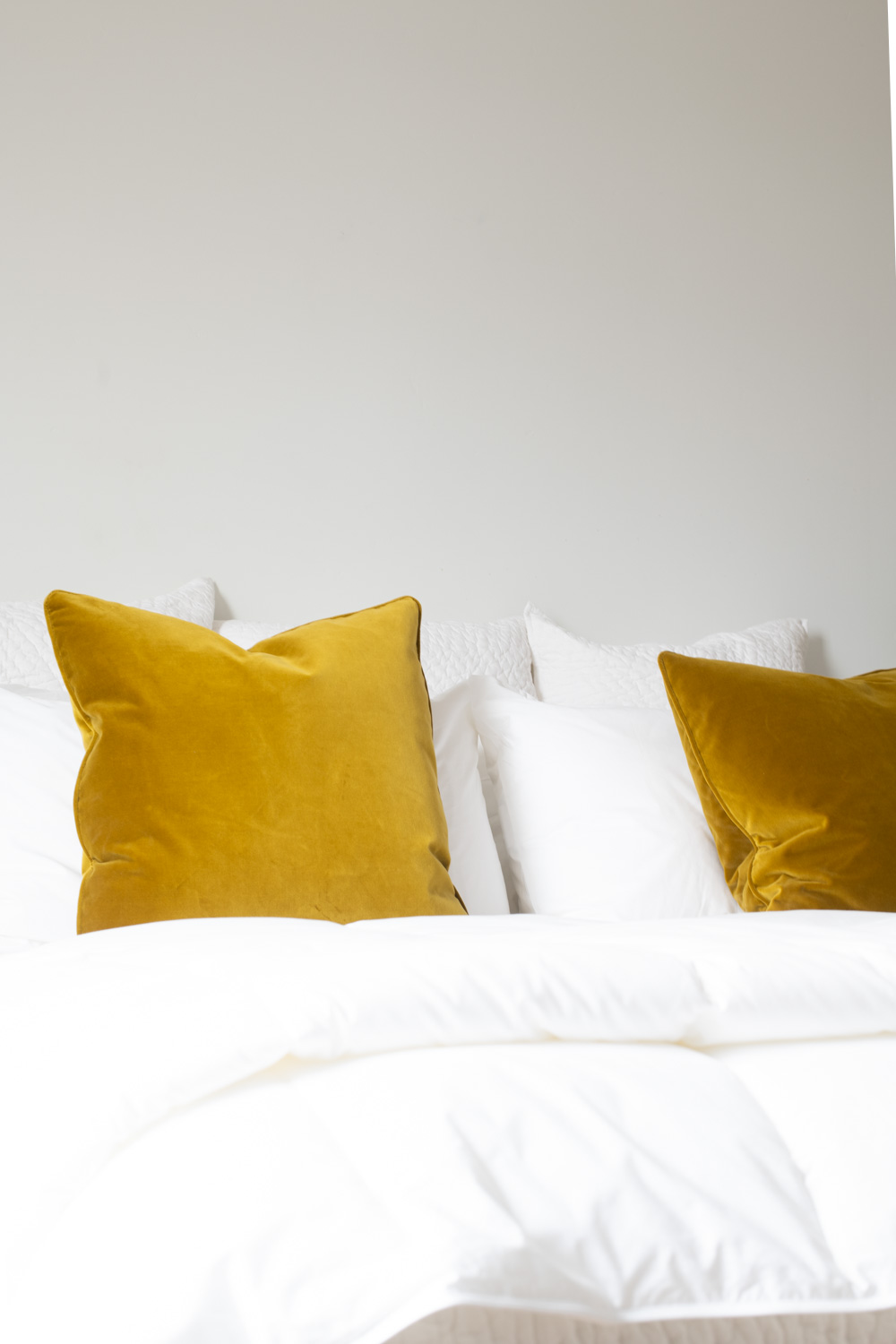 Court and I both love down pillows, but do you know what I hate about down pillows?! Getting stabbed in the cheek with a feather. The Company Store has a line called LoftAIRE  that is a synthetic down alternative that has the same loft and warmth, sans the impaling . They are absolutely heavenly! You'd never know they weren't real down!
If you're planning for a guest room have 2 different pillow options for each guest, a firm pillow for the side sleepers, and a soft one for the back and stomach sleepers.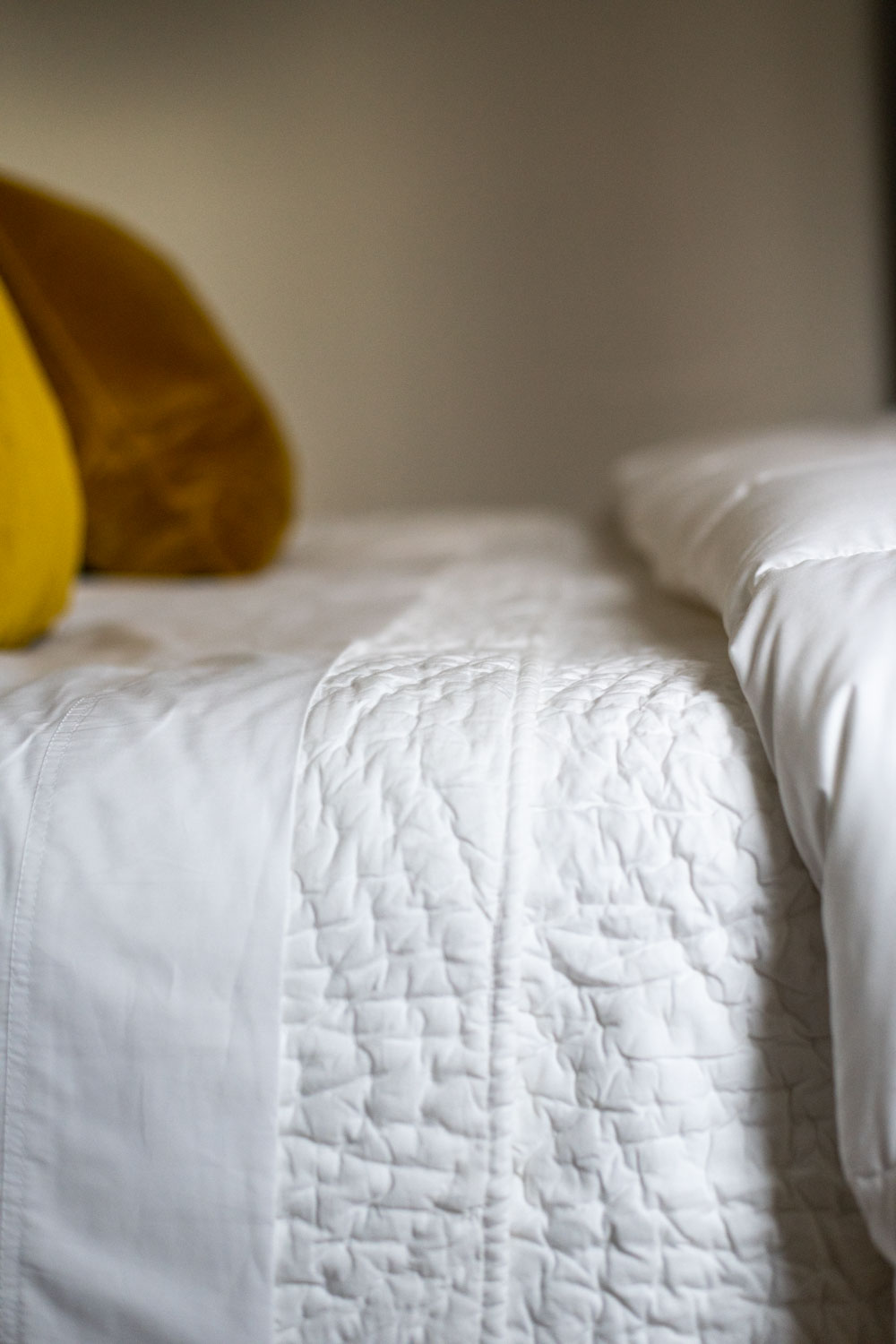 When I'm making a bed esthetically I prefer both a comforter and a quilt. And coincidentally using both is best for my marriage. See I'm a snuggler and Court is not, in fact skin to skin contact during sleep is like THE WORST THING YOU COULD INFLICT UPON HIM. It makes him ragey. So we split the blankets up and it's the best of both worlds. I take the fluffy down comforter and Court takes the quilt. That way I can wrap my leg around something and wont risk getting a toenail to the shin as a reminder to stay on my side of the bed. The Company Store has a great quilt options my favorite is their signature quilt. It is perfect for any decor style!! And they have SO MANY colors to choose from! My favorites are white, mushroom, flame, and pacific.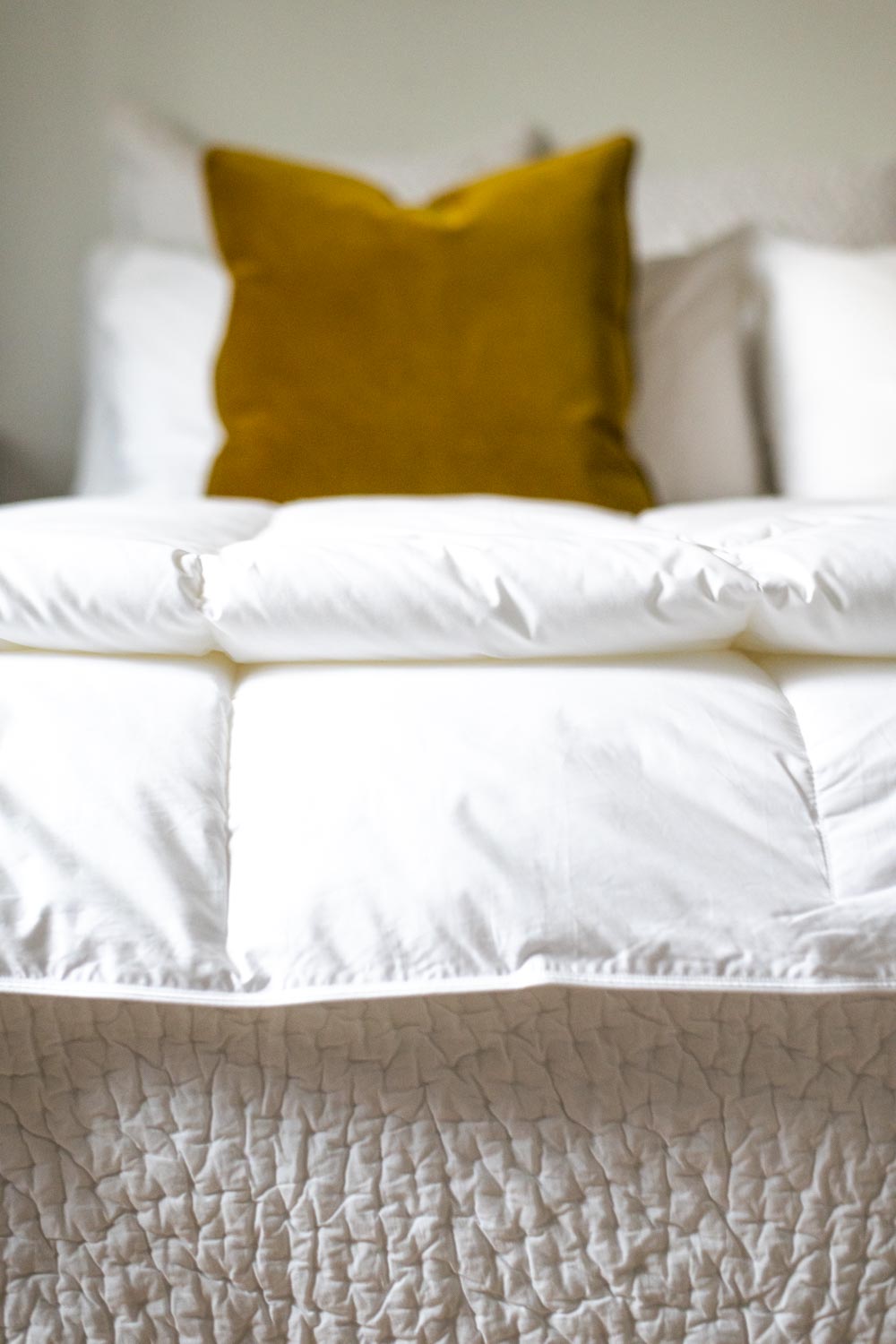 As I was digging through all of the comforter options (there are so many!!) I fell in love with their Lacrosse line. It's made for people like me who love white bedding, but also have a 2 yr old that sleeps in the bed and dogs that love to jump on it and take naps in the sun. Everything in the Lacrosse line is machine washable!! Hello lofty down comforter that doesn't have to be dry cleaned!! And it's made with the same LoftAIRE Down Alternative as the pillows.
If you're into real down, check out their Alberta line of comforters!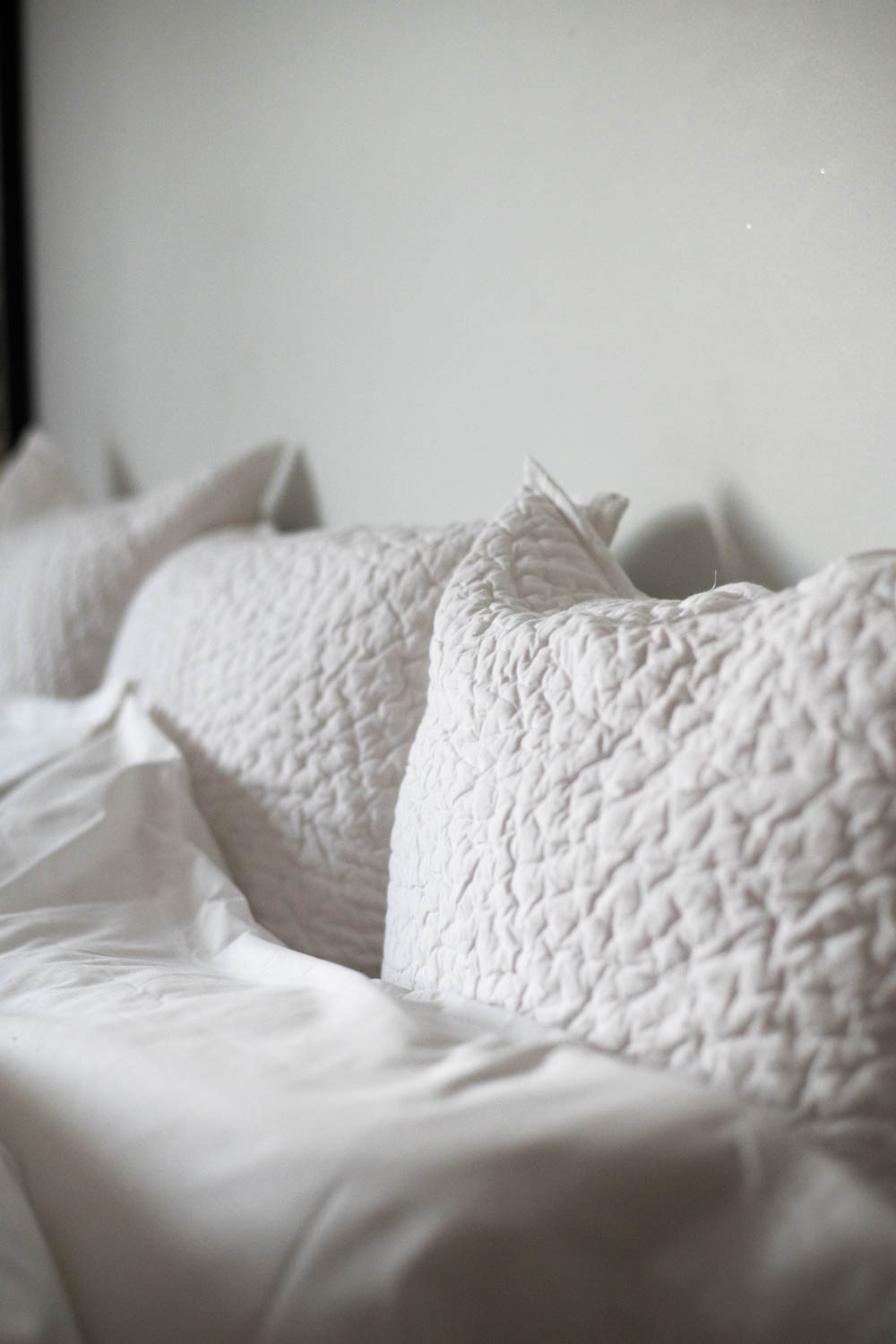 Because we're living our best life without a headboard, I love using Euro Pillows to add some visual height to the head of the bed. Euro Pillows usually measure 26 inches and peek out just enough above the tops of your regular pillows. They are a great way to add some extra texture as well. A pro tip is to match your Euro pillows with your quilt, or go a shade darker!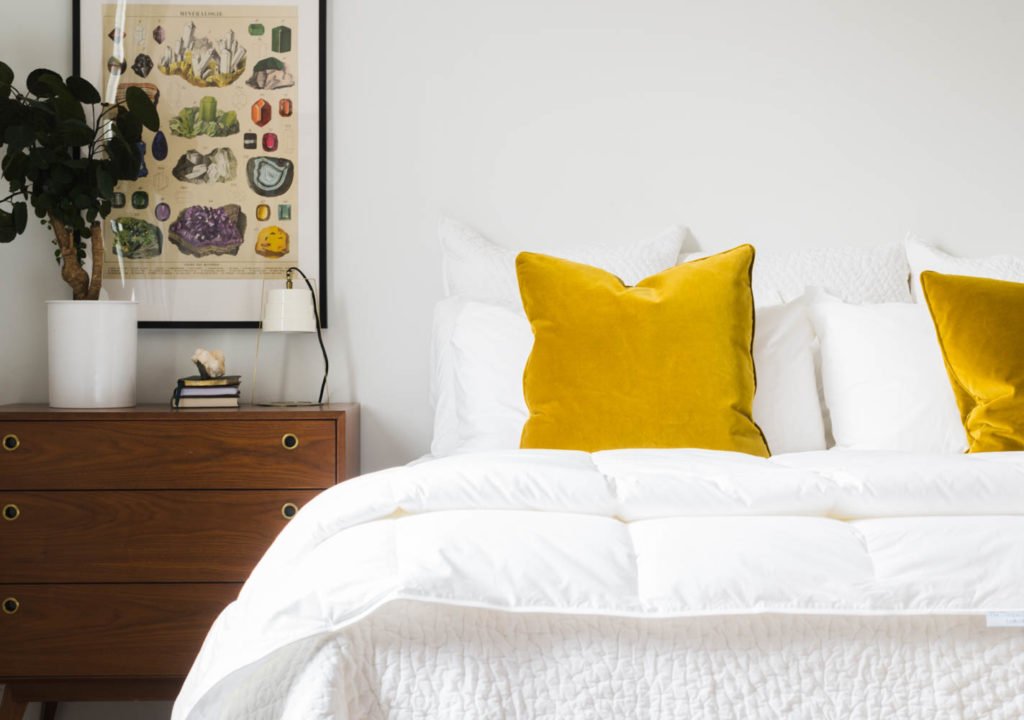 Home depot has so many other great options. I love this gossamer throw (it's thicker than you think, we used one in Ivie's room!)   and this woven cotton blanket is so good. I'm currently obsessed with wool blankets, but they can be really hard to wash. The Company Store has some gorgeous ones that are machine washable!! 
It's so weird how using new bedding suddenly makes this room feel like a bedroom and not a room with a bed in it. You deserve that, and so do your holiday guests!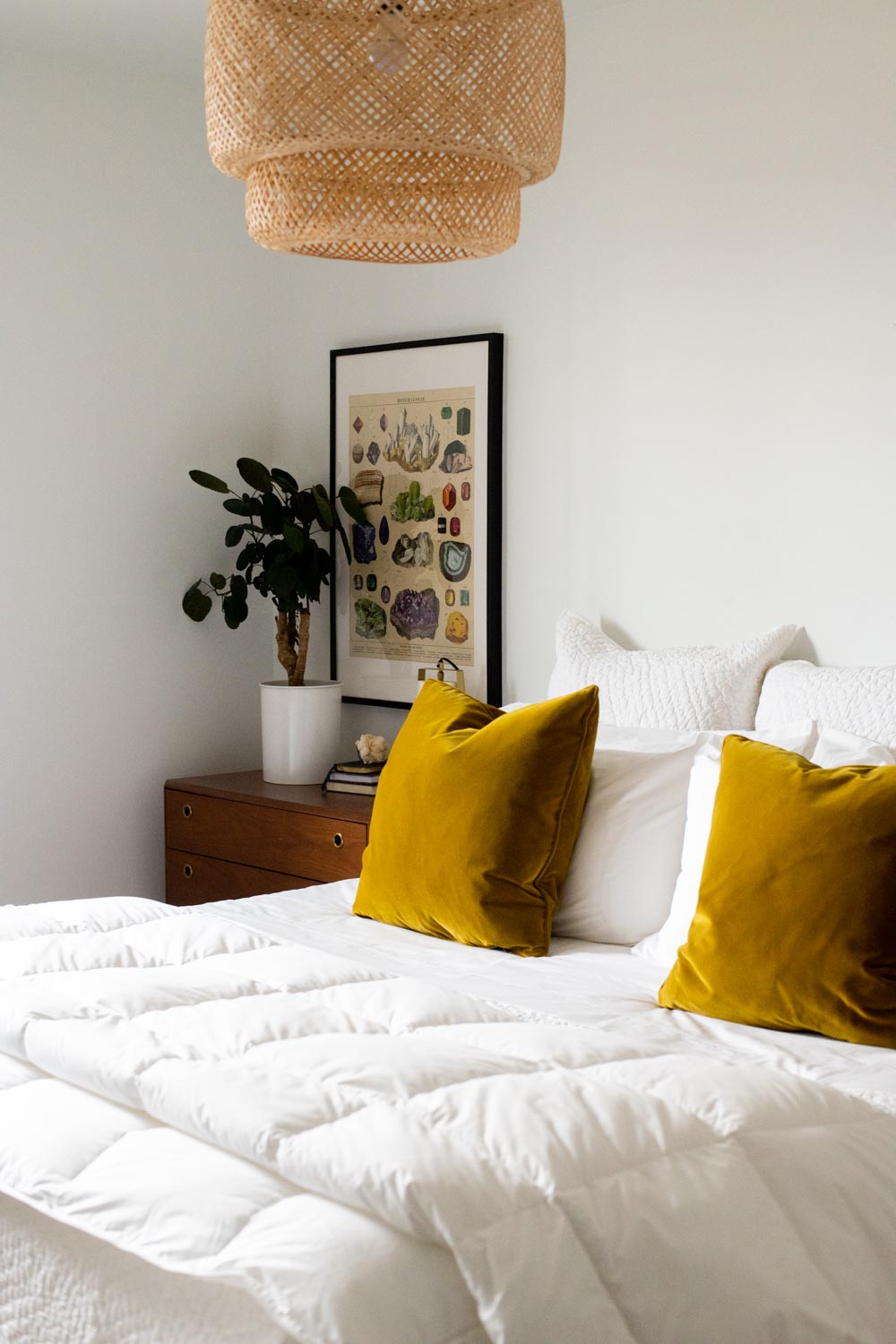 Get the look:
300 Count Percale Sheets
Pillowcases
LoftAIRE Down Alternative Pillows
Lacrosse LoftAIRE Down Alternative Comforter
The Company Store Quilt
The Company Store Quilt Euro Shams
Velvet Throw Pillows
Huge thanks to Home Depot for partnering up with me on this post and making my husband not sleep hate me for touching him.
]]>